Koi Breeders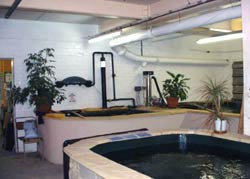 *NEW* Grow and Show Koi 2022
Grow and Show Koi 2022. Sakai Inc and Genjiro. High quality Shiro Utsuri and Showa. 15 - 22cm
Dianichi
Famed for his Showa, also has a good all round quality of Go-Sanke
Grow and Show Koi 2015
Grow and Show Koi for our Gala Weekend 25th and 26th July 2015 . Great selecion from Marujyu £200 for 2 Koi.
Hirasawa
Famed for Doitsu Go-Sanke and Hariwake.
Hoshikin
One of the best Kohaku breeders in Japan.
Kachi
Kumonryu of the highest quality!
Kase
Recognised for his Doitsu and Metallics with stunning results.
Mano
New breeder to us, some stunning Kohaku!!!
Maruhiro
excellent Go-sanke, superb skin quality on all of his Koi
Maruju
Famous for his stunning Tancho and Gin Rin Tancho
Marusei
Many varieties and great quality!
Matsunosuke
Amazing Go-Sanke with some of the best gin rin you will ever see.
Minauma
Burst on to the scene with some stunning Goshiki.
Narita
1 brother has made his name for his Jumbo Chagoi, the other brother has one of the biggest wholesale outlets in Japan.
Omosako
The master in producing Shiro Utsuri of you dreams!
Sakai Hiroshima
The main man in Japan. Multi Champion at the All Japan Show. Has some of the finest quality brood stock in all varieties.
Sekiguchi
One of the Showa specialists, his Koi grow very fast!
Tani Fish Farm
Premium Go Sanke
The Big Girl
The largest coloured Koi ever exported from Japan!! Her new home - Rainbow Koi. 120cm long, 90lb in weight. Seeing is believing!!
Yamacho
Perfect Platinum Ogon/Purachina